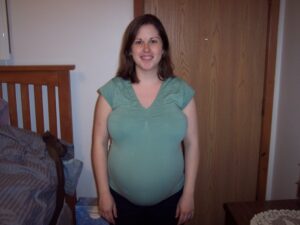 I was a classic first time mother giving birth. Namely, I was worried about giving birth and making no plans to prepare for postpartum.
We took the hospital-based birth class. In which, I learned that I needed IV fluids before I could get an epidural and that's about it.
Going into labor, I had a significant amount of fear and undiagnosed anxiety.
The birth of a mother is intense
Julia Jones says, "When a baby is born, so is a mother, and the birth of a mother can be more intense than childbirth."
I've written this story for my personal records and processed the story in therapy. But for some reason as I am sitting down to write it for this blog, I find myself really struggling, feeling vulnerable and uneasy.
The birth of a mother is personal
Throughout my attempts to write this blog, I find myself needing to take breaks multiple times for some vagus nerve stimulation due to experiencing continual stress responses, even though it has been more than a decade since my journey as a mother began.
After checking in with myself to see if I can figure out why I wrote my daughter's story with ease but somehow sharing my son's story feels too personal, I came to a clear conclusion.
Ultimately, I determined that I need to keep this one a little closer to my chest.
So here's the highlights: I went into labor naturally 41 +3 weeks. I had lots of fears going into labor that I hadn't properly addressed. Additionally, untreated anxiety was lying under the surface of my mind. All of this was then coupled with a medical model approach to childbirth. It was a recipe for disaster.
My total labor from start to delivery was 28 hours, 18 of which were spent in the hospital.
I had ALL the interventions…..culminating in a very unwanted, potentially unnecessary (we'll never know) cesarean delivery.
A c-section mother is born
It was my first major surgery, and it was terrifying.
There were moments when I truly believed I was going to die.
One such moment was right after my son was born.
The layout of the OR meant that we hadn't seen our son yet. No one lifted him up over the drape for me to see him. Instead, they just started processing him (poor baby).
A nurse invited my husband to come over to see our son. Of course, we wanted at least one of us to be with our baby. Therefore, my husband left my side.
The longest 13 minutes of my life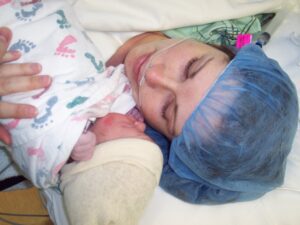 After he left, I lay there feeling the pushing and tugging of my abdomen and hearing my son's cries but not being able to see anything. The anesthesiologist was on his phone and not looking at me.
I began to feel like I was suffocating. Immediately, the thought that went through my mind was that I was dying. My voice was paralyzed as I looked (upside down) at the anesthesiologist, trying (unsuccessfully) to get his attention. Subsequently, I believed I was going to die, and no one was going to notice.
Time stamps from our camera tell the full story (still so grateful for the nurse who took pictures of our first meeting).
My son was born at 2:07 PM. My husband and the nurse brought him to my side of the drape at 2:20 PM. For 13 minutes I was alone and thought I was dying. Although it was supposed to be the best moment of my life, in truth it was awful.
The whole experience, labor, birth, and postpartum was earth shattering and world rocking for me. But it led me to this amazing work. It fuels my passion for the work I do. My son's birth was my origin story.
5 years after my son was born, my daughter was born by VBAC (vaginal birth after cesarean). As is sometimes the case with birth, it wasn't ideal. Read her story here